What is a Loan Concierge Page and why you need one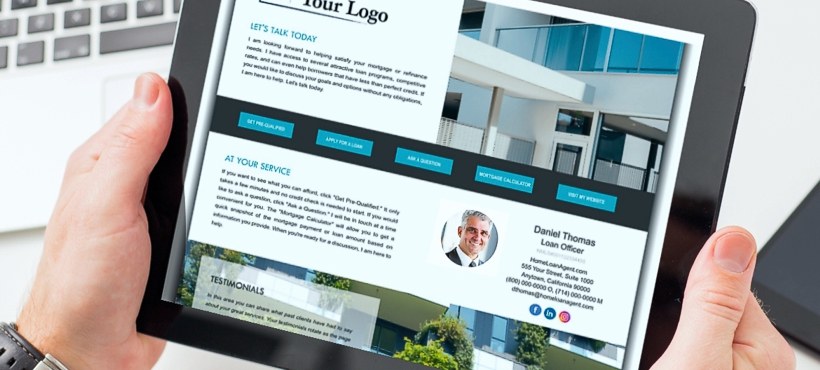 The term concierge typically conjures the idea of a hotel employee whose job is to help guests with finding needed services or assisting with booking desired arrangements. A concierge can also be a person or business that provides personal services, most typically, locating something that takes time and that could involve a range of available options. 
With these ideas in mind, it may be clear what a Loan Concierge Page is. A Loan Concierge Page is a web-based page, a website, whose aim is to be a resource, or service, for individuals seeking a mortgage loan.
Loan Concierge Pages are simple by design. Think of them as a digital business card, but much more. They allow mortgage originators to make an introduction, display their logo and photo, briefly overview their services, and link visitors to their question form, pre-qualification form, and six-step loan application, all of which are super user-friendly. The moment a client submits a question or loan inquiry, a detailed notification is sent immediately by text or email to the mortgage originator.
Loan Concierge Pages also provide the frequently sought-after mortgage calculators, and the option to display client testimonials. They are the perfect complement for a website but can also be used as a standalone web presence, if desired.
Their utility and power reside in their simplicity. Loan Concierge Pages provide what is most essential to originate loans without unnecessary distractions. Loan Concierge Pages can be customized to the brand of the mortgage originator and, because they are designed in responsive html, they display beautifully on any device. 
And let's not forget the links that launch visitors to the mortgage originator's website and social media pages. They are there also. And if a visitor happens to visit a Loan Concierge Page on a smartphone, which will be true of many visitors, one click on the phone number will call the mortgage originator. The email link is also hyperlinked.
Setting up a Loan Concierge Page only takes minutes. Once the mortgage originator's contact information and business overview are provided, that important information is indexed with Google, expanding the mortgage originator's reach. 
Loan Concierge Pages are powerful tools to originate more loans.